Home Safety Tips for 2018 Holiday Travelers
by guest writer Paige A. Mitchell
December 18, 2018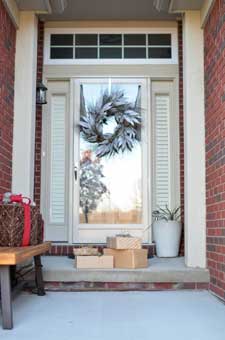 Thirty percent of Americans are reportedly worried about their home's security this holiday season, according to a new
Travel Mindfulness Report
. The survey suggests smart home technology may be the answer to your fears but not all of us can afford high-tech gadgets this close to Christmas. Here are three forms of home security from technology to preventative home maintenance.
Home Tech
If you can afford it, some smart investments include an alarm system, smart or timed lighting, and a doorbell with a built-in camera.
This year's most popular alarm systems are from providers like SimpliSafe, Nest, Ring, Vivint, and ADT. They cost between $200 and $350 on average, but the peace of mind is priceless - as cheesy as that might sound. Not only is your personal safety on the line, but one burglary results in $2,250 of property loss on average, according to the
FBI
. Fortunately, theft is often deemed a peril by most home insurance providers.
Smart lighting or outlets are also options. This allows you to turn your lights on and off through your smartphone. This is especially helpful for those who will be spending the holidays out of town this year. You can connect your outdoor holiday lights to one outlet and an interior light to another, say in the foyer or living room. Some of these smart plugs are as affordable as $10 apiece.
Note: many safety councils and manufacturers advise homeowners against using lighting while they're not home. You'll have to decide whether this step toward home security is worth the risk of fire.
Another popular home security product is the Nest doorbell. My fiance and I bought one on Black Friday this year for $170, and we love it. Nest users get smartphone notifications every time their doorbell detects motion or a person gets close to your home's entrance. You can even activate a voice feature that lets you communicate with the person at your door through your phone to the doorbell intercom.
Who You Can Trust and Who You Can't
Technology also comes with its own privacy risks. Connected devices can be hacked or they can malfunction, and social media opens up a whole other can of worms. SafeWise's first home safety tip is to keep your travel plans private. Don't post your vacation schedule on Facebook and don't load up your Instagram with beach day photos.

On the other hand, it is wise to let a neighbor know if and when you'll be traveling, so they can report any suspicious activity to you while you're away. If you're new to the neighborhood, you may call on a friend who lives close enough to occasionally check in. You may also ask these kind folks for the additional favor of picking up your mail. The United States Postal Service suggests using an alternate shipping address, like a neighbor's house, or requesting their packages to be held at the Post Office.

Winter Maintenance

Whether you're hosting the holidays at your house this year or you're traveling, there are a few housekeeping items that will enhance home safety.

First is fire safety. If you haven't already, hire a professional chimney sweep to clear your chimney of debris before you gather 'round the fireplace. Other fire prevention tips include: inspecting holiday lights for broken bulbs or frayed wires, keeping candles away from children and other decorations or combustibles, and replacing batteries in smoke and carbon monoxide detectors.

If you have one, give your home warranty company a call. Ask them about what is and isn't covered under your plan. Understanding your coverage and the claims process can expedite home repairs when you're under a time crunch.

If you're hosting family or friends this year and you're lucky - or not so lucky - to enjoy a white Christmas, it's important to shovel snow and salt walkways. Replace burnt out bulbs around your home's exterior. This will not only keep your visitor's path illuminated, but it'll also cast a welcoming glow this holiday season.
Paige A. Mitchell is a new freelance writer who is exploring her interests through writing. She loves sharing tips on making homes healthier and more functional. When she's not writing, you can find Paige gardening, running with her pet Aussie, or reading the book version of the latest blockbuster movie.